Eurodressage Press Release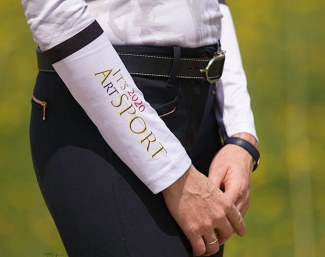 Shanah Equestrian: "It's Art Sport"
United by a passion for horses and art, Alexia Mercier-Lafond and Emmanuelle Bressan founded Shanah Equestrian, a Quebec based company that translated their love onto paintings, fashion and home accessory objects that will brighten your life with colour and style.
In these troubling corona times, Shanah Equestrian has expanded their range with a capsule collection of beautifully designed face masks.
Sustainability is key to the founders and their products, so they decided on packaging and production methods that are eco-friendly. Furthermore, every purchase gives back to three charities: Brooke USA, Stable-Mind CIC and Refuge Galahad. 
Street to Stable Fashion
Founded by professional dressage riders, Alexia Mercier-Lafond and Emmanuelle Bressan, Shanah Equestrian offers one-of-a-kind street to stable fashion, as well as accessories, home decor and art reproductions. 
"Horses represent beauty, strength, control, and quiet confidence – something we all aspire to have. We, as equestrians, especially strive for these qualities every single day," said Alexia. "It brings us a source of pride when we see them featured on artwork, on fashion or car brands. The reality is horses have been a source of inspiration for humans since the beginning of times, and our complicity with them dates back centuries."
This is why for Shanah Equestrian horses are the core of the brand. Uniquely artistic and combining poetry to modern artwork, it draws its essence from the dream, the hope and the determination of the rider, but especially from the splendor and scale of the animal.
"It's Art Sport"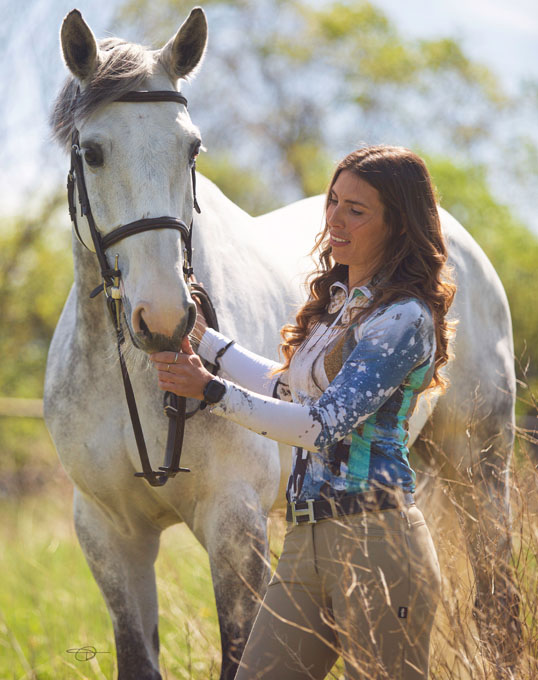 Alexia and Emmanuelle want to bring a touch of colour and diversity to this often conservative industry. Emmanuelle is the artist behind all the products that make this brand so unique.
"All these pieces, full of color and dazzling with love, are developed as artworks in their own rights. Considering the intricacies of the support, I have fun positioning my designs to later see them come alive in movement" said Bressan.
"In my opinion, riding a horse is an art just like painting a horse, so the horse is always my medium," Bressan added. "That's why I imagined this slogan "It's Art Sport". I wanted to make a nod to the urban legend that horse riding 'is not a sport,' 'the horse does everything.' Actually, it takes a lot of training, compassion and sensitivity to ride this animal with harmony! So yes, it's a sport, but more than that: "It's Art Sport".
"We founded Shanah Equestrian for our love of horses and art, and because we believe in their power as a force for good," Alexia added.
Art with Mission 
Sustainability is an essential pillar of their business strategy and Shanah Equestrian stands for art with a mission.
"Our goal is to help democratize art, combine the beautiful with the accessible, raise funds and awareness for deserving charities, all while keeping the environment as top of mind," Alexia explained. "We go the extra mile in all that we do. This means producing and designing everything locally, and finding the best quality eco-friendly fabrics, ink and production methods."
For the dying of their clothing they use water-based ink for a lower environmental impact. Their fashion is sublimation dyed, so the ink never fades. Produced locally to their headquarters in Québec, Canada, the sun shirts are made of 100% recycled fabric and sourced from recycled plastic bottles. Bressan and Mercier-Lafond aim to build a catalog of 100% recycled and/or natural fabrics. 
"We strive for innovation and hope to inspire consumers and other businesses alike to make more socially and environmentally conscious decisions," said Alexia. "This project has become a mission of ours that has an impactful message that is much larger than us, and with your help, we believe that we can spread the beauty of horses, art and the love of giving back across the globe."
True to their word, they donate a percentage of every purchase to three charities: Brooke USA, Stable-Mind CIC and Refuge Galahad. 
"We wanted to use this brand to make a positive impact in the industry," said Alexia. "With every purchase made, a portion of the profits is donated to charities that come in aid to horses and riders in need. Those three charities have very different niches but make a real impact in the industry and we are extremely proud to support them."
Discover Shanah Equestrian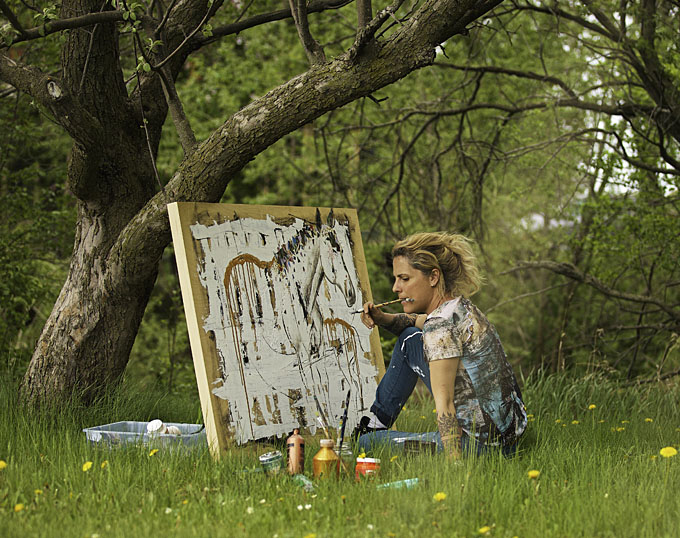 "We come out with new designs and products monthly. I am developing color block designs as well as patterns developed from my original work, sometimes asymmetrically and at other times to emphasize the straightness of the rider" said Emmanuelle. 
Emmanuelle Bressan also offers some of her original artworks on the Shanah Equestrian website, as well as at Paard Verzameld, a platform from Holland dedicated to equestrian art. Bressan also had a lot of success in contemporary art galleries.
Discover Shanah Equestrian at www.shanahequestrian.com and join them on Facebook and Instagram.
---